Three TURNS 2018
Three Turns
A collaboration between Lisa Munnelly (drawing), Oli Blair ( projection) and Gus Garside ( music)
Three Turns presented the blank page as both a surface to draw upon and a stage on which to perform. With lights dimmed and audience seated, the artist and musician entered. Both operated on a simple script – over 25 minutes the artist to trace the perimeter of a sheet of paper as it moved through a succession of folds, the musician to coax from the instrument sounds to mirror the unfolding lines. Melodic narrative abandoned, chords were led by line's density, direction and form. This duet was extended into a triadic structure via projection, with a projected live feed of the drawing mirroring the drawn image. Carefully calibrated the projected image blended seamlessly into the page space, the body double, always in movement was phantasmic and intangible.
The artists would like to acknowledge the generous funding from Massey University College of Creative Arts, and support from Julieanna Preston and Brian Lucid, as well as thank Adam Dransfield from the School of Music and Creative Media Production (Massey University) for his ongoing advice and assistance.
DRAWin Festival 2018
Curator Ram Samocha
DRAWin 2018; the fifth annual symposium held by Draw to Perform, was a two-day international festival for live drawing performance organized by Draw to Perform and hosted by Fabrica Gallery in collaboration with South East Dance and Left Bank. Including live performances by leading local and international artists, a discussion panel, and workshops, the festival aimed to promote public awareness of drawing as participatory and innovative practice and provide the general public an opportunity to explore and engage with it. With the theme for DRAWin 2018 focused on drawing in relation to sound and movement, the symposium presented a cross-disciplinary event that explored the connection between mark making, music, dance, theatre and performance art.
Video camera Credits: Domenico Dominelli
Photography Credits: Vinny Montag
Munnelly, Lisa. Blair, Oli., and Garside, Gus. "Three Turns". 2018. DRAWin Two Day International Festival of Live Drawing Performance, 3-4th April 2018, Fabrica Centre for Contemporary Art, Brighton, United Kingdom.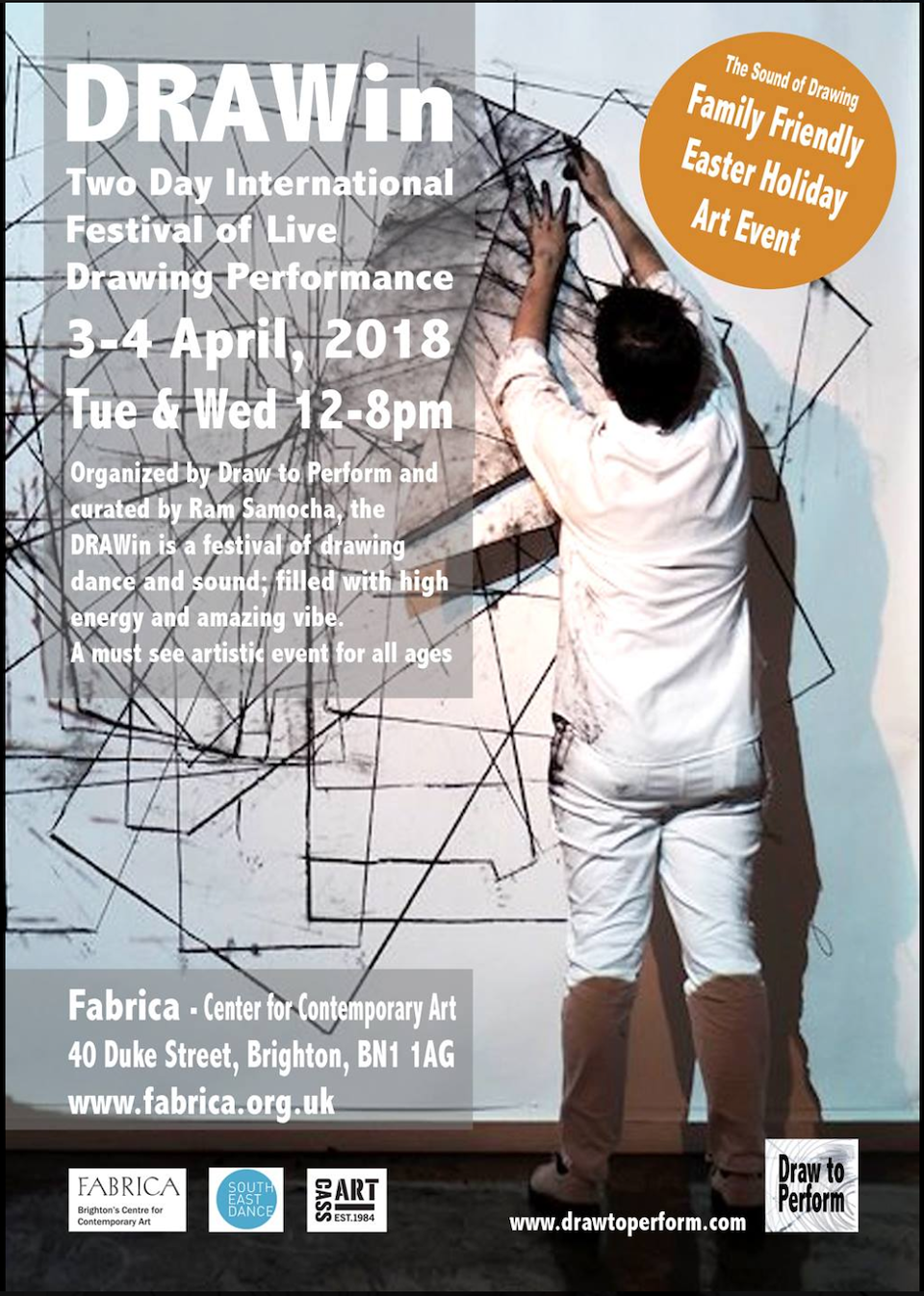 ---
For DRAWin Festival/ Draw to Perform 2018